Was found wearing sportswear is no longer awkward scene, instead a stylish sportswear can not only allow you to show the state of health, also can highlight your taste in fashion.
Hugo network from foreign media recently reported in China to learn about, instagram "health fashion," the topic is very popular, fitness from photographs also fire up, so women in sports service requirements are also increasing, not only comfortable, very fashionable.
Key note, a market research firm, said last year British sportswear sales are expected to more than 60 billion pounds, big brands and high street brands attaches great importance to the market, 2016 also launched its own sportswear product line of a good time, because the forefront that never stops.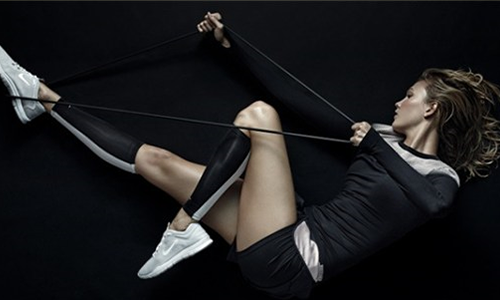 Why is it a good business idea to start a women's sportswear brand
According to the UK sportswear industry report said, with the popularity of sports and fitness classes, sports and fitness activities in the next five years will continue to develop. The increase in fitness activities means that the sales of sports wear increase, but the sports clothes are no longer limited to sports activities to wear, so as to create greater opportunities for the development of sportswear.
Fashion websites and retail brands have been developing rapidly in recent years, especially in the United States, and now the UK is showing the momentum of development.
Mintel's September 2015 report said: "in 12 months after the purchase of sportswear consumers, 70% of people are buying for sports, 51% of the people for other reasons." The report also emphasized that women show more interest in sportswear. Women's demand for a variety of occasions to stimulate the development of fashionable sportswear.
Is expected to 2019, the British sports wear consumer spending will reach 8 billion 650 million pounds. At present, the major sports brands only 30% of the product is for women, so you can use the 2016 to create an independent women's sportswear brand, take full advantage of the growth of sports clothing consumer spending.
Opportunities for women's sportswear
Creating a fashionable ladies sportswear brand is one of the most obvious opportunities. Although some big companies have been in action, but the introduction of the product is controversial. For example, Hudson Fabletics sportswear brand Kate has been a lot of negative evaluation, are concentrated in the product quality and business model opaque. While West Kanye and Adidas products demand, but consumers are very dissatisfied with its price.
On the contrary, consumers are very keen on high quality, exquisite production and can afford the fashion sportswear. So in view of the continuous development of sports service market, you can consider creating a sustainable product line. And not only clothing, sports fashion accessories also have the market. GymTote launched a stylish sports bag, Next recently launched a similar product.
Finally, with the improvement of wearable devices, fitness technology products become more and more popular, so you may also wish to launch their own smart fitness apparel. The United States Lauren Ralph recently launched a smart Polo shirt, the built-in sensor can track heart rate and movement frequency.
2015 Polyvore site search volume most of the products are sports brand, many high street brands and retailers have launched their own sports fashion products, can display sports and leisure has been commercialized., according to GymTote co-founder of Helena Searcaigh Sports and leisure market growth is very fast, according to Verdict data show that this market will grow five in the next 24% years.